A tirade of travellers from China are spreading across the globe out-shopping, outspending and out-eating every other nation. They are filling hotels, tour buses and cruise ships. They are overwhelming airports and train stations, and they are sharing their photos in the millions to compatriots back home in turn in encouraging them to join the global invasion. A new generation is arising, a generation who would rather explore and travel than buy a luxury bag.
There are those travellers who are truly looking to enjoy and develop themselves through travel, whilst others looking for the opportunity to create tangible evidence of their experiences to share and show off to their friends through in the form of photos via Wechat moments.
According to the United Nations World Tourism Organization, China now accounts for over a fifth of the money spent by international tourists, twice as much as the second largest spender, the U.S. The potential is immense as only 5 percent of Chinese citizens currently own a passport and the government is issuing over 10 million new passports every year. According to a report by CLSA, by 2021 Chinese tourists will spend £300 billion abroad.
For the last few years Japan, Thailand, the U.S. and Australia have topped the must-visit list, according to the report, with other destinations in Southeast Asia – especially Singapore, Indonesia, Malaysia and the Philippines – following close behind.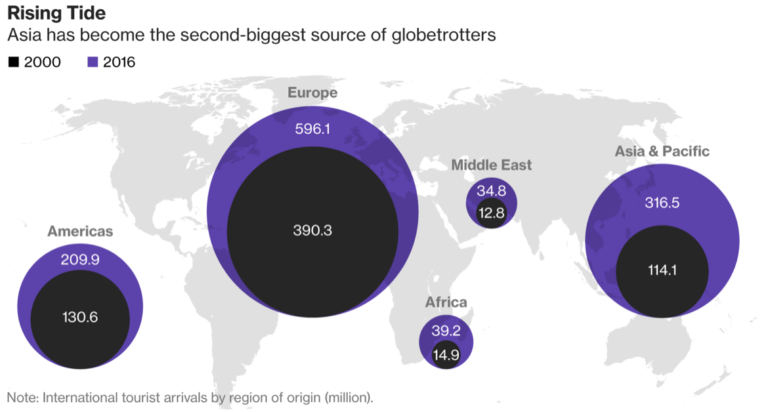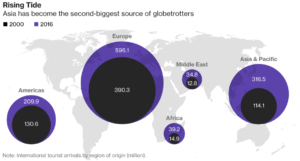 David Joseph founder of Hub of China mentions how in the last few years Thailand have started to make a conscious effort in targeting the Chinese audience through the acceptance of Wechat payments at a growing amount of restaurants and stores, plus the common translations of menus into Chinese. A lot of this infrastructure was not to be seen even a few years prior. Wherever you are in the world if you are operating in the tourist industry catering to the Chinese consumer should be taken under serious consideration.
The millennial travellers are changing the game from the Chinese tour groups of the past to what the industry refers to as FITs – free, independent travellers – who are using their own resources such as apps to plan itineraries, book flights, translate signs and journal their adventures through Wechat.
Indeed for the first time in their history Chinese people are slowly getting a taste of multiculturalism down to their increasing exposure to foreigners in their home country, coupled with the influx of western services and businesses. This has created a new generation who are more open minded than their ancestors in accepting and experiencing other cultures. The patriotism of communist China is still there to be seen but it's wavering under the pressure of globalisation and capitalism. The curiosity of the Chinese traveller has awoken and is not going away anytime soon.