Singles day in China is on the 11th of November, created by bachelor students who liked the idea of being able to buy themselves presents to celebrate their single life. In recently years it has become a shopping frenzy.
As of writing this article there have been single day sales amounting to over 36 billion USD. To put this into context China's one day festival this year is likely to eclipse expenditure of Thanksgiving, Black Friday and Cyber Monday combined. The figures are outstanding especially if you consider that less than 10% of the population used e-commerce when singles day first started out in 2009.
The popularity of this occasion only seems to be increasing. Singles day has now ventured out to other areas in the world including south east Asia and New Zealand.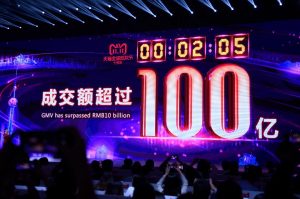 The success of singles day can be attributed to a number of reasons. Firstly there is a whole televised show before hand. These events draw in an audience of around 200 million viewers, who tune in to catch product launches, win prizes, and see top western celebrities making appearances. This creates a real buzz on social media which Alibaba uses as a tool for free word and mouth marketing.
Secondly the Chinese have really taken to e-commerce. Last year E-marketer has estimated that spending on Chinese shopping apps alone reached $1.53 trillion. This has been increased by the convenience of being able to pay with apps and the efficiency of the delivery system in China klicken sie auf diesen link. Further, as we found out in a number of surveys we conducted last year, Chinese consumers trust for e-commerce websites seems to have increased. This is largely due to the greater trust that Chinese consumers have in these products they purchase online.
Lastly, the older generation who were born in the days of the famine under Mao are still heavily influenced by their upbringing and have a great appetite for deals and discounts. This is something that is characterised by singles day. There had been rumours when singles day started that the discounts were not real. In recent years some of the larger international companies like Adidas have been offering great discounts they do not offer at any other time of the year.
Despite the apparent 'turmoil' of the Chinese economy singles day this year seems to have been more successful than ever and it looks like this will continue for at least the next few years.